Detangle Brush
---
Our Melanin Crown Flex Detangler brush is truly next generation! When used properly, it prevents unnecessary hair shedding. For a smoother brushing and painless detangling experience, we highly recommended use with your favorite hair conditioner. In Addition, this brush also pairs well with our Melanin Crown Organic Hair Balm. The Flex Detangler Brush is easy to clean and doesn't hold on to product at the base. It was designed using revolutionary patented technology and is made of flexible, recyclable, eco-friendly ABS plastic.

Eight flexible claw comb-like bristles and an easy to hold anti-slip rubber grip handle, helps cut detangling time in half!Melanin Crown
---
---
Brushing Made Simple
---
In other words, separate flexible bristles feature a unique Kinematic structure with eight free moving arms that were designed to glide through and soften your hair with every stroke. Moreover, ABS plastic is durable and long lasting so our brush works wonders when used with a blowdryer. Therefore, during your blowdrying session... whether at home or in the salon, your overall experience using our professional salon quality brush will be magical. Above all, free flowing silky tresses that are full of body, shiny, and easier to manage is the end result. Lastly, all detangle brushes aren't created equal so stop pulling at your hair and start pampering it.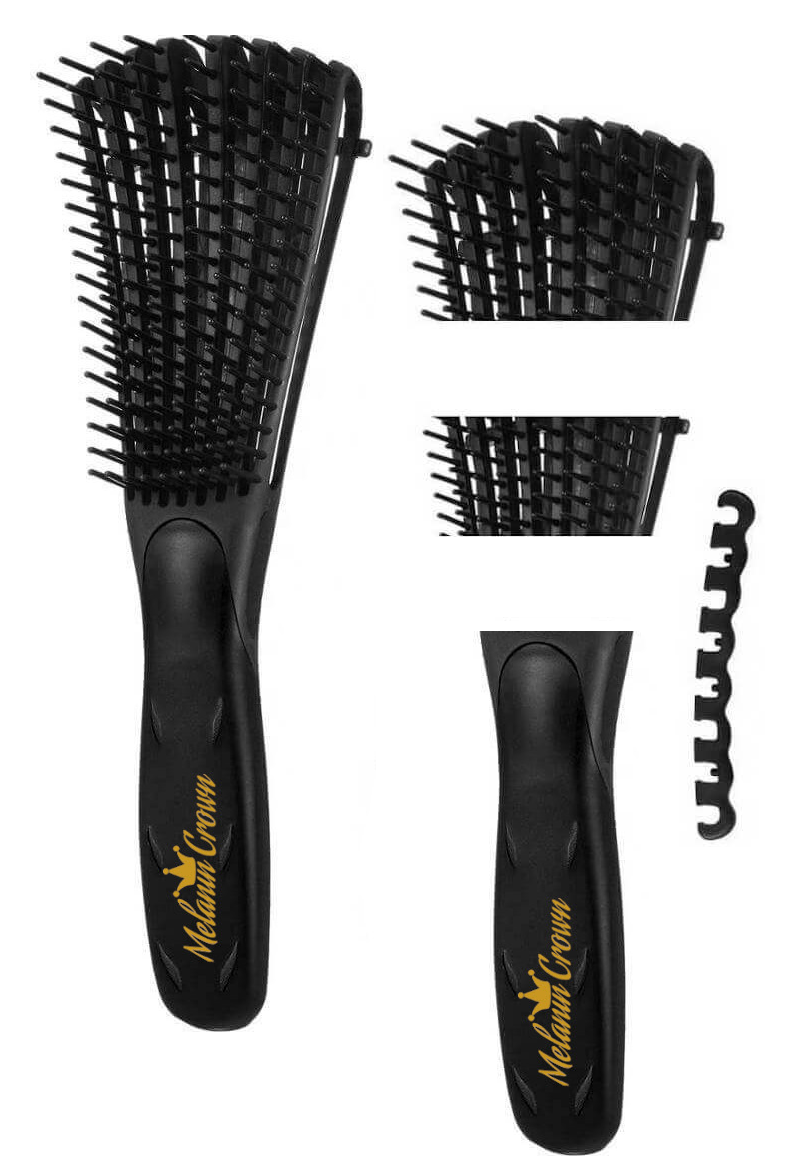 ---
how to use
---
Step 1:

Hold detangle brush in a vertical manner and gently brush dry or wet hair from root to tip. Next repeat the process, but brush in a horizontal manner instead. For 4c type hair it might be best to brush from tip to root.

Step 2:

The Flex Detangler brush can be adjusted to use on long or short hair. There are two split level bracket slots. Placing the bracket at the first line helps easily detangle thin, short hair. While placing it in the second line of bracket slots is good for detangling long, thick hair. My personal preference is to use it without the bracket while my 4c hair is wet.

Step 3:

Finally, Once your hair has successfully been detangled brush once again. Follow through by holding the Flex Detangler brush in a horizontal manner. Brush the entire head once again to ensure no stubborn knots remain.
---

Highlights

Easy to clean and doesn't hold onto product at the base
Flexible bristles and easy to hold anti-slip rubber grip
Brush is durable and safe for in shower use
Separated bristles and the adjustable bracket allows hair detangling in larger sections
Adjust the detachable bracket to pay special attention to long, short, or thicker hair
Great for kids and tender heads
Comfortably brush horizontally or vertically without yanking your hair out of your head